First they are NOT pregnate, they are mouth brooders. She wil hold Eggs then fry and she wil hold them until she almost dies if U dont' have enough deco (rocks) in the tank for her to release them in. (those fry matts work great too!)
So YES U need to either move her to her own tank where she wil release them on her own AS IN no other fish threat for the fry, place in more suitable rocks/fry matt or strip her of the fry to be housed in a different tank..
IF she is holding for 3 weeks, the fry are needing to EAT too!! So do something soon..
It is more than a container with fish!!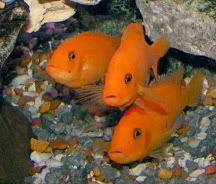 My site: Great information for your fish keeping:
[
aquatichobby.proboards.com
]