IF U are not going to run a airstone in the tank, at least keep the water down so your outflow from your filter can spash just a little bit into the tank. This will add in much needed Oxygen into the water..
For all your cichlids to do good, the Ph should be at 7.6 and up. Just do not place in anything OTHER than dechlorinator and salt IF U use it.
BUT just out of your "tap" is fine. they are used to it as U have had them for years..
Right now, just leave it be. they have acclimated to this water.
ON your next cleaning, just VAC as much as U can BUT DO NOT remove more than 1/2 of the tanks water.. Leave the water level down so U can get oxygen into the water. Once U get a air pump,
AND a Check Valve to prevent water from siphoning back down into the pump on power outages,
I place my check valves right below the rim on the back out side of the tank.. OR U can just place the pump higher than the tank, hard to do really and it does vibrate if left on the tank. I am sure the fish do not appreciate that!! Then U can level off the tank water to full..
If I am going to do a VERY good cleaning, I remove ALL THE DECO before I start. this way U can vac it good and not lose to much water.. (notice thou, how far down the water level goes once U remove all the deco, mostly rocks. This is displaced water volume.) So when U get done vacuuming the gravel??, return all the deco BEFORE U add back in the fresh water..
Great on the return fresh water temp. This is a shocker to fish if it is to cold from what they are in..
Breathing ON top of the water meant NONE in the water itself!! So they were gasping at the top.. Run your filter as I said and this wil take care of the problems UNTIL U get another aip-pump and a check valve for EVERY air line...
U need to know your Ph in the tank AND what comes out of the Fauset.. U said 7.2 and U lowered it?? NOT good.
The only problem I see is U took out to much water at once. then NO air in the water makes it hard for them to breath so they were on the top gasping.
Barb
It is more than a container with fish!!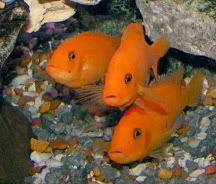 My site: Great information for your fish keeping:
[
aquatichobby.proboards.com
]