Did u test the tap water?? U need to know if this is out of the tap too on GH/KH. IF not and it is the same or close to this, then U might benifit from a buffer or at least some kind of other to bring up your GH and leave the rest alone..
Your filter maintenace seems fine. Your nitrates are great..
HOW big is this tank??
how much is 20% to U?? Say it is a 55gal tank.. figure out your % like this:
55 x .20= 11 gal.. Closer to 10 gal, so do 10gal..
55 x .25= 13.75 gal. Closer to 15 so do 15..
55 x .30= 16.5 gal.. Closer to 15, easier to measure dechlor/salt..
On my tanks I do the 25 to 30% as they are so close to each other this delutes down any unseen problem in the tank....
IF U are not doing at least the 30% to your tank gallons, then U might want to do so..
BUT if you see a pH drop say from 7.8 to 7.6 in a weeks time, then U need to see what is causing the problem.. most times it is something U placed in the tank..
Wood if not a lot or a thick piece wil not change your hardness that fast in a weeks time.. Your water changes wil alter the slightest change as it delutes them down.. Tannins mostly from the wood.. But see if the pH climbs some more after a week with out it in..
One thing I have learned in my years with my tanks, is the GH/KH, nitrates, and my pH from weekly to by-weekly, change slightly but not enough to hurt them.. This is a slow increase OR decrease so the fish ajust with it.. When U do your tank and vac, do the filter and add in new water, this all changes and goes back to normal levels IF U change out enough water..
Some of my tanks go 2 weeks now as they only have 10 or less Juvies so I can let them go longer. I do however, vac and give them a 5-10 gal water change on the start of week two..
I always check my pH before a water change on my tanks that go 2 weeks. This tells me about how the tank has done from the last tank cleaning.. GH/KH is not tested as that pH wil tell me if it changed or not. Most times this does not change depending on WHAT U have in your tank.. Wood to crushed coral substrate..
My pH stays at 8.0 to 8.2. IF this changed any, I would test my tap right away.
I have no wood now in any of my tanks to alter my pH or over stocked (ammonia) so my hardness should not change..
It is more than a container with fish!!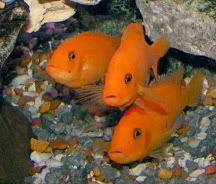 My site: Great information for your fish keeping:
[
aquatichobby.proboards.com
]