Most males have more egg spots than the females.. You can tell the sexes this way "ON MOST" African cichlids at a young age.. The males have one to a parchal spot and the females have none to a parchal one.. The females will get more egg spots later depending on the species.. I notice on the Cobalt blues, white Zebras, and a few others I can't recall right now, that the males get theirs first and the females dont' have any at a young age, 4-6 months.. The Red Zebras are an exception to this thou, as the males have 3 or more and the females can have just as many at that age but they are not as defined and as big as the males are.. Interesting how the species are divided that way..
IF you are ever in question on the sex of one, the males get bigger and bully the others in the tank at a fish store, look for the egg spot to one not having any and the size of them, the females HIDE to avoid the males, even at 2" the males still want to spawn and wil dig nests in the gravel or take over a corner of the tank for a nesting place....
It is more than a container with fish!!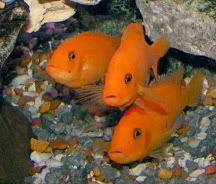 My site: Great information for your fish keeping:
[
aquatichobby.proboards.com
]