You need to seperate the cichlid from the others and treat with MelaFix for 7 days on, 4 days off, 7 days on, to fight any bacterial infection that WILL come along.
The problem in fish keeping is having a "hospital tank" to house the injured fish. You can try a breeding net, but you will have to treat the whole tank. A 10 gal is perfect for this as all meds are given in 10 gal doses. No gravel, maybe a fake plant to hide under to feel safe. You will need a small air pump with an air stone and a small cheap filter for a 10 gal tank. (do not use charcoal) The whole set up will cost you about $30.00 us funds. I have 2, 10 gal. one has fry and the other is the Hospital for any injurys, infections that come along. (yes I have them too!) The tail will grow back but be ready to keep the injured fish in another tank for at lest a month, maybe longer.
It is more than a container with fish!!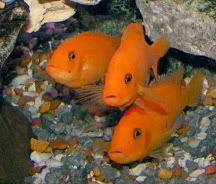 My site: Great information for your fish keeping:
[
aquatichobby.proboards.com
]