A compressed cichlid is a fish that is flat on both sides and taller not fatter, like a silver dollar or Discus OR an angel fish.. that is called compressed..
An oscar wil eat any slinder fish he can get into his mouth!! they are eating machines deluxe and they dont' care what U paid for it either!
I learned years ago to NOT have more than 1 to 2" of gravel in my tanks.. this helps to keep it more cleaner and not so time consumming to clean.. NO bottom fish eat poop. so U are just stuck vacuuming the gravel weekly.. Some ppl do not use gravel but sand, but as U have yours going right now, U can change it out later if u want to try it..
Some use nothing as substrate to keep the waste/food collected by the filter better, But that looks bare in a tank, 1 to 2" of gravel is fine and easier to vac.. With oscars they dont' like to much deco in a tank as they get bigger, so less is best and this will help also on debri getting stuck around the rocks/other deco.. Make sure your filter intakes are as low as U can get them to help move the waste/food to them easier.. Keep plants/rocks away from them too helps..
Now on the Oscars eating, that U can do is get any other larger American cichlid their size or just some what bigger, say a Midas if U can find one.. Mine loved to eat under the Oscars as they were just messy eaters!!
Some nice sized silver dollars (tropical but work) wil do the same and they are neat to watch play tag with each other.. They need to be as big as the oscars are right now thou. and that is hard to find..
DO NOT get a Red Devil, they are not nice and wil kill your oscars later on...
It is more than a container with fish!!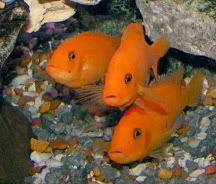 My site: Great information for your fish keeping:
[
aquatichobby.proboards.com
]