I have had convicts since 2003 and I dont' mind them with others, but U need to know what ONCE they start to spawn, THEN the trouble starts..
YES U have been mislead. Normal for ppl NOT knowing about certain species to be told it will work knowing it won't to make a sale or just BAD advice. I have convicts and love them, but I know what I can add with them.. NOT Much or u need a REALLY big tank. 75gal and up..
IF U get say just a male and say a FM MALE, and that is not easy as both sexes look alike with the FM, AND they will cross spawn and that is not good! That would be a neat tank with two different species of interesting cichlids. BUT that is all U can have in the tank. SO again, U need to think what U want in it and start out in a 29gal but in a few months, get a bigger tank and add in more as U do..
IF U want the jewels, then U need to do them and say 3 Elect yellows would work out good and not be to crowded. elec. Yellows get along with all but them selves for some reason.. U really need a bigger tank for what U want.. A 55gal and UP is the best for these cichlids and even then, U are going to see aggression as it is intinct here for them to be so..
IN a 29 gal tank, I have 4 adult convicts, one lone female that keeps the males away, Yes she does! dont' know why but I am glad for now.. they survive due to lots of clay flower pots in this small tank. NOT a good set-up at all but it was this or kill them and I am not a fish killer if I have a tank, they are just going to have to tough it to survive until I can get a 55gal up and going.. again.. So far so good..
ON your filteration.. I have a prob with your powerhead.. Are U doing a UGF? under gravel filter?? As this is not going to work out at all. Cichlids DIG and they make it useless fast.
Also a powerhead in such a small tank is going to cause a current your fish are going to have to fight to swim here and their and might just HIDE al the time away from the current.. NOT a good idea at all.
YOUR one filter for a 29gal should be all u need. I have an emperor 400 on mine turned half way down. (older model) so not a lot of current but it does its job.
Hope I helped some..
My 29gal TEMPORY home:
It is more than a container with fish!!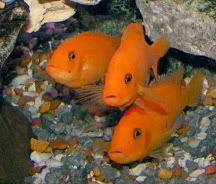 My site: Great information for your fish keeping:
[
aquatichobby.proboards.com
]
Edited 2 time(s). Last edit at 01/28/2012 12:49AM by Barb Okla.