DID U cycle the tank BEFORE U added in the fish??
TEMP IS WAY TO HIGH! keep it at 76 to 78F as stated.. lower is best. they won't freeze..
ONLY FEED ONCE A DAY!! U can kill them in a new tank feeding them that much! Ammonia from waste from to much food!! NEVER follow food directions, that is for guppies!
HIGH ammonia DO 5 gal water change!! ASAP!!
Your bio aditive is not going to help with high ammonia..
STRESS COAT IS NOT A MEDICATION!!
U need to remove the Oscars, YES both of them to another tank. DON"T HAVE ONE?? then take the others back to the fish store and get your money back or credit for later when U get a bigger tank.. (they wil NOT take the hurt oscar back!)
KNOW thou, that in 3 mons time, they will out grow that tank! so U best save for a bigger tank now.. Oscars like to cruse, so a longer tank 5'+ is better than the width..
While U are their, get some melafix and use it on the tank for 7 days.. This wil keep him from getting infections in the fins and help them grow back..
ONCE they start to attack, they wil continue until he is dead..
IF U keep them all in this tank, some are going to die. Seems the oscars are the target. they dont' protect them selves well with JD and GT..
It is more than a container with fish!!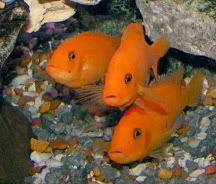 My site: Great information for your fish keeping:
[
aquatichobby.proboards.com
]
Edited 1 time(s). Last edit at 06/08/2010 05:02PM by Barb Okla.