high nitrates wil NOT kill your fish even at 80ppm.. High NITRITES will kill them at the 10ppm that U had earlier.. That is why I asked U if U were sure it is the NITRITES and not the NITRATES..
Nitrates at a high level are to much proteins which means to much FOOD..
Feed only once a day to every other day.. They wont' starve and your small tank wil do better..
A bigger better filter may be needed. U need 10x the gallons per hour=GPH for a 29.. that is 290 GPH on this tank.. So updating your filter may help U out here..
U are always gong to have nitrates in the tank.. U can not keep them out.. they do nothing serious to the health of the fish UNLESS they get above 60ppm and it is only minor problems.. U Vaccumming the gravel bed WEEKLY will keep these down and a 5 gal water change each time.. 5ppm is great.. I wish my 125 gal were that, but they are closer to 60ppm..
Your pH is low but not that low to kill the fish..
Do U clean the filter box out?? I mean at least by-weekly clean the filter box out completly.. Keep the media pads cleaned weekly too and new ones monthly..
I bet something else is going on in the tank..
AS I said, FINE at the LFS is not telling U anything. Did they give U the ppm of all?? Ammonia, nitrites, nitrates???
Ammonia and NITRITES need to be 0ppm.. NITRATES are always in the water but best to keep them under 20ppm..
Do the tests on the nitrites and see where they are.. Post back when U find the problem..
It is more than a container with fish!!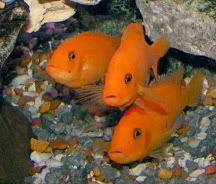 My site: Great information for your fish keeping:
[
aquatichobby.proboards.com
]
Edited 1 time(s). Last edit at 09/20/2008 09:50PM by Barb Okla.