Ok you two.. the blind leading the blinder..
NUMBER ONE: what kind of fish/cichlids are you talking about??
Are they the same species or different ones that have spawned??
Whitish eggs mean they are not fertile and they will eat them on the secound to third day.. IF any survived, they are in the gravel being watched by the couple.. the Wiggles as they are called now, will eat their egg sacks for 5 to 7 days then go free swim. You wil not see them until they do. DO not feed them until you see them all over the tank.. IF they ate them all then they will spawn again in few weeks..
IF you want to keep the fry, then get a divider or another tank just for the couple..
cichlids with Tropicals is a no no.. They wil eat the eggs if they get a chance. Especially at nite.. This can be a blessing if you dont' have more tanks to house JUST the fry in for several months..
Males keep everyone away from the nest and help with the fry later.. SO NO you do not have to take ONE out when the eggs hatch..
It is more than a container with fish!!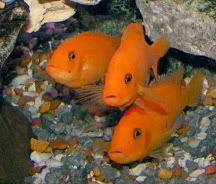 My site: Great information for your fish keeping:
[
aquatichobby.proboards.com
]
Edited 1 time(s). Last edit at 08/10/2007 06:01PM by Barb Okla.