Cloudy eye is from bad water quailty.. High nitrites to high nitrates.. Also a dirty filter wil help feed these and make it worse.. VACUUM the substrate really good and remove the deco before you do.. CLEAN THE FITLER OUT!! NOT just change the filter pad.. I clean my filters in the sink with brushes and hot water.. Do a good 30% water change too.. That is 30% of your tanks water volume.. So your tank size x .30%= This amount.. ROUND it off the the nearest even 10, 20, 30 gal so you can add in water conditoners/salt to your exchange water..
NOW on meds.. clean the tank/filter and do some MelaFix/PrimaFix for 7 days.. REMOVE ALL CARBON FROM YOUR FILTER PADS!! To do a sealed filter pad, just cut a slit at the TOP on a NEW DRY filter pad and shake out the carbon.. USE this pad only when you med the tank..
these meds wil NOT hurt other fish in your tank or distroy your bio like other meds can do.. Please remember that this is a daily med for 7 days...
It is more than a container with fish!!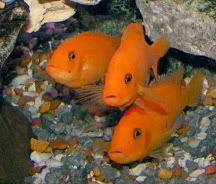 My site: Great information for your fish keeping:
[
aquatichobby.proboards.com
]