Then take out the pads and run them under HOT water AND OR throw them away..
Salt is not a parasite killer. The dose for a tank is 1 tablespoon per 5 gal of water..IF you have cory cats to plecos, I would do per 10 gal. They dont' like salt as it irrates them..
Please dont' add in more as it wil stress the fish causing DEATH to happen within hours.
It is more than a container with fish!!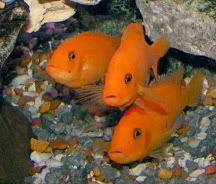 My site: Great information for your fish keeping:
[
aquatichobby.proboards.com
]