Do U have others in the home that might be scaring them while U are not at home?? Children running infront of the tank can cause this.. they do not like fast movements..
A dog jumping on the tank.. Cats too can climb and sit on the tank and watch them from above.. Scaring them to dart and hide more..
Eating goes with the above if they are being scared while U are not home..
Oscars do go through times that they do not eat.. Mine went weeks before he decided to eat again.. They all do this.
Turning on the light while they are sleeping can startle them.. Best to turn on the lights in the room so they can see U moving around and are watching U.. then turn on their lights..
Fish do not have eye lids so their eyes are always open.. Dark to light to fast movement catches their attention and if too sudden, can startle them to behave like this..
Once my fish are awake, which is as soon as the tankroom/living room gets light from the windows, I turn the lights on and leave them on till 9 or 10pm or bed time..
Loud noises can vibrate through the glass.. Your sterio to TV to loud can affect them over time..
But darting and hiding more is another problem all together.. U need to find out what is going on while U are not home or correct any of the above..
Find the cause and try to prevent it from happening..
It is more than a container with fish!!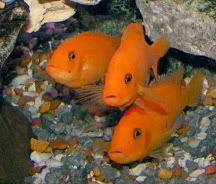 My site: Great information for your fish keeping:
[
aquatichobby.proboards.com
]