I have Jacks and Severums together and they respect each other as in no aggression to each other. The severum is a male, and the JD is a female. Severum males have a more deeper throat, and the squiggly lines on the face area are more prominate. On JD's, the female will have the blue color on her gill plates. Female JD's are more aggressive. Sounds like the JD is wanting more room in the tank as it gets bigger. Severums swim everywhere, but JD's are more 'cave dwellers'. Sounds like a terrotorial dispute with the lip locking. My Male Green Terror is more of an issue with the severum, as I have a female GT and it seems to irratate the situation as the Severum is a male.
You don't say how big your tank is. Mine are in a 125 gal. Lots of room, lots of caves, but once you get a pair (same species) it kind of stresses the tank.
A smaller tank will really make it more of an issue for terratory.
Try re-arranging the tank, new caves, plants. They will have to find new Terratories, gives them something else to do besides pick on each other.
It is more than a container with fish!!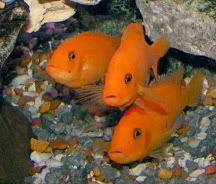 My site: Great information for your fish keeping:
[
aquatichobby.proboards.com
]