They can but not a good idea if you get TWO and they become a pair..
This alone wil make life with the Africans VERY stressfull once they spawn..
IF you just have to have ANY American cichilds, please get another tank JUST for them.. they eat more meaty foods that are higher in protiens and Africans have problems digesting and WILL cause Bloat and that means DEATH..
SO really not a good idea...
It is more than a container with fish!!
I HAD 12 tanks running!! but moved so only 4 going strong!!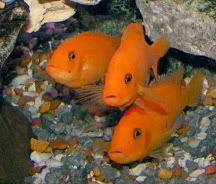 My site: Great information for your fish keeping:
[
aquatichobby.proboards.com
]
Edited 1 time(s). Last edit at 08/05/2007 11:11AM by Barb Okla.