Could be breeding colors. You said acts strange, how so? is he like shimmering in place by the female, chasing her, hiding or darting around the tank? Are his fins folded together or faned out? How is your pH,Ammonia and Temp?
It is more than a container with fish!!
I HAD 12 tanks running!! but moved so only 4 going strong!!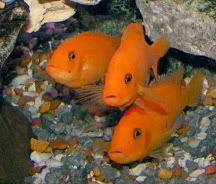 My site: Great information for your fish keeping:
[
aquatichobby.proboards.com
]