the blue regal, yellow lab and cobalt should all have EGG SPOTS under the tail fin, which is called the anal fin..
U should see some small dots like, and with the labs they are hard to see..
IF NO egg spots then they are to young still or u have females..
Most times at 2" U should see egg spots.
also males chase at a young age most others in the tank. Females wil run and stay at the top on their sides mostly to avoid a male wanting to spawn to young..
It is more than a container with fish!!
I HAD 12 tanks running!! but moved so only 4 going strong!!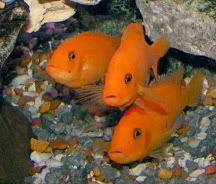 My site: Great information for your fish keeping:
[
aquatichobby.proboards.com
]