Normal behavior for Oscars. The Albino should eat soon as he ajust to the tank. Oscars can go long periods and not eat. As you have only had him a few days, he is fine. IF he does not, try re-arranging the tank deco or add something "new" and see if gets his attention. A Tall fake plant, drift wood ect...They are swimmers and not "hiders" like the JD will be. My Oscar always swam in front of the tank wanting out, and he was in a 125 gal tank.
Oscars and JDs like the same water premiters, Hopefully you are close:
pH: 6.8 - 7.5
Temp: 74F to 80F (23c-26c)
Nitrites should always be 0ppm
Ammonia should always be 0ppm
Nitrates should be keep under 40ppm: you can keep this down by 30% water changes and vacuuming the grave weekly. Do them at the same time or your nitrates wil not come down.
And you know your tank of 55 gal is only going to be big enough for another 6 mos if that long. Two Oscars really cramp the space quicker.
It is more than a container with fish!!
I HAD 12 tanks running!! but moved so only 4 going strong!!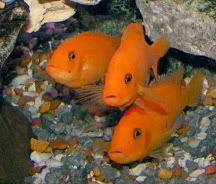 My site: Great information for your fish keeping:
[
aquatichobby.proboards.com
]